The spread of coronavirus infections has taken a "swift and very dangerous turn" in the US state of Texas, Governor Greg Abbott has warned.
"Over just the past few weeks, the daily number of cases have gone from an average of about 2,000, to more than 5,000," Mr Abbott said on Sunday.
Several southern and western states have recorded a surge in cases after lockdown restrictions were eased.
The number of reported infections in the US has now surpassed 2.5 million.
Over 125,000 Covid-19-related deaths have been confirmed nationwide – more than in any other country.
What's the latest on the surge in US cases?
The spike has led officials in Texas, Florida and other states to tighten restrictions on business again, with warnings that hospitals may soon be overwhelmed.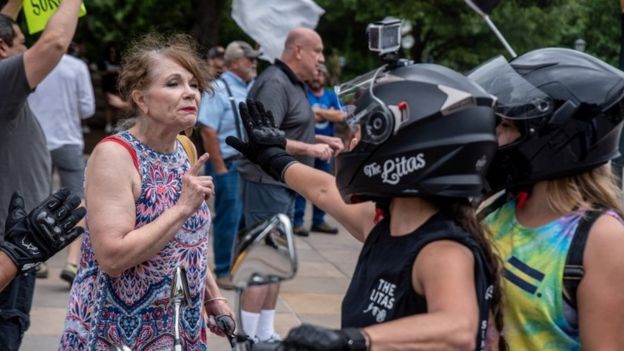 On Sunday, Mr Abbott said that as many as 5,000 people a day were being diagnosed with the virus.
US Vice-President Mike Pence said that Texas would be issued additional Covid-19 testing kits for as long was necessary.
"We are going to make sure that Texas, and your healthcare system in Texas, have the resources, have the supplies, have the personnel to meet this moment," Mr Pence said.
The vice-president also urged Texans to wear masks "wherever it's indicated", saying "we know from experience, it will slow the spread of the coronavirus".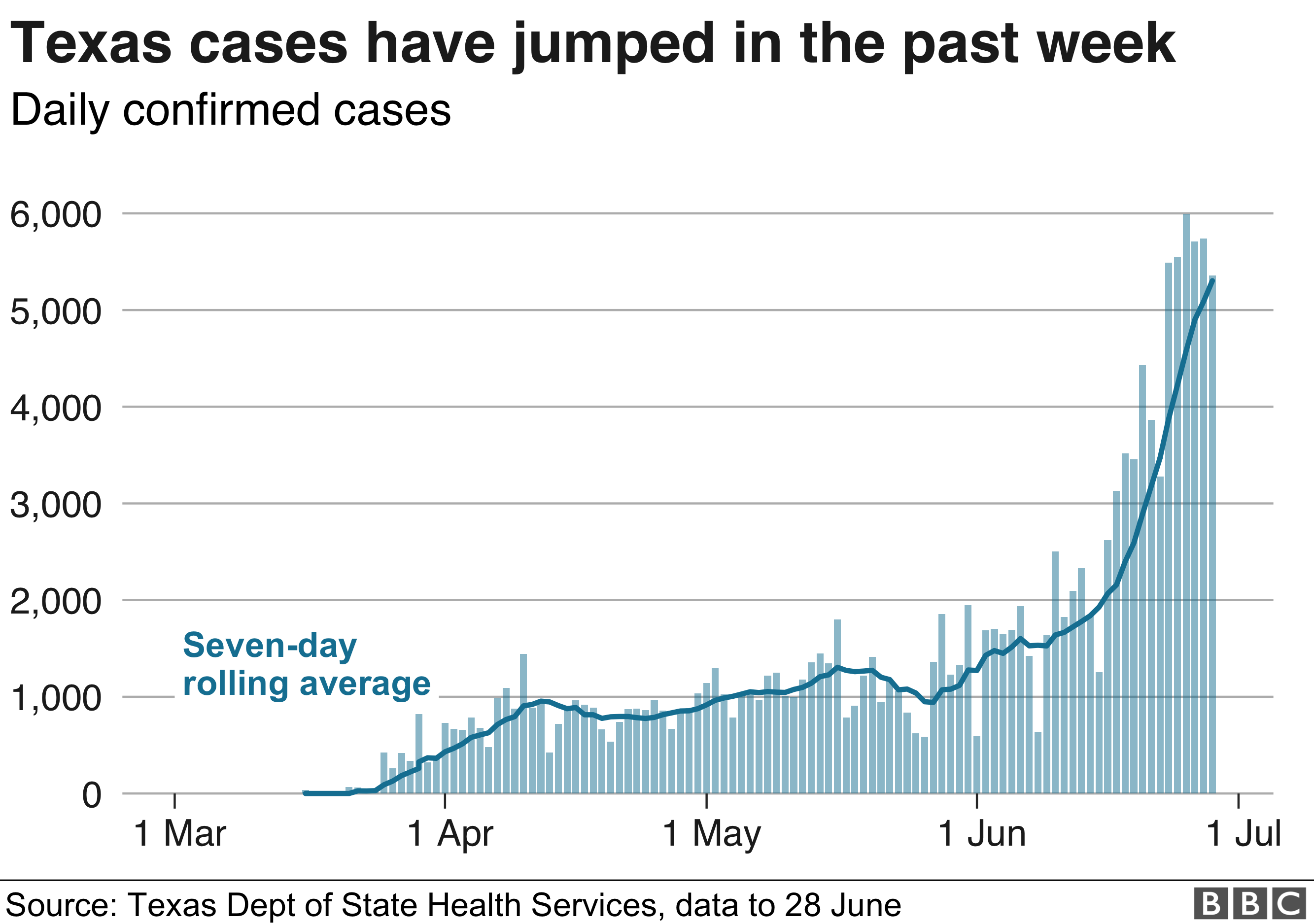 Democratic House Speaker Nancy Pelosi, who was speaking at a joint news conference with Governor Abbott on Sunday, said that a nationwide mandate to wear face coverings was "definitely long overdue".
"We have the worst record of any country in the world," she added.
In the Texas state capital of Austin, a requirement to wear face coverings in some circumstances in order to help mitigate the spread of the virus led to demonstrations on the city's streets by people objecting to the measure.
On Sunday, Arizona also recorded a record daily increase of more than 3,800 cases. Hundreds of people reportedly travelled to rivers in the state to escape the hot weather.
The reported increases in infections in southern and western states come after moves in recent weeks to reopen businesses, resulting in people from other areas pouring in.
Responding to the level of new cases, Mr Abbott last week told bars to close and limited restaurants' indoor seating capacity to 50%. Restaurants had previously been allowed to operate at 75% capacity, and bars at 50%.
In the Texan town of Galena Park, east of Houston, the mayor imposed an overnight curfew on Saturday and warned that hospitals could soon be overwhelmed.
Florida Governor Ron DeSantis also re-imposed restrictions, ordering bars in the state to stop serving alcohol on their premises.
In California, Governor Gavin Newsom ordered bars to close in Los Angeles and six other counties on Sunday, warning that the virus had "not gone away". He urged people to wear masks, follow guidance on hygiene and to "take this seriously".

Should US case rises worry us?

New coronavirus cases have been swiftly rising in more than half of US states and experts are worried. The number of daily cases had been declining in May and early June – but as many places continued to ease lockdown restrictions, cases began to rise again, hitting a record high of 47,341 a day on 26 June.
This is not a second wave of infections, rather a resurgence of the disease that had shown signs of being brought under control. Some of the hardest-hit states, including Texas and Florida, have tightened restrictions again to try to bring down infection rates and avoid hospitals becoming overwhelmed.
There is a lag of a few weeks from infection to possible death, so it is not easy to draw an immediate correlation. And, additionally, much will depend on who the new cases are – if they are fit young people, then there will not be a similar rise in deaths.
Rising infections are worrying, regardless, because higher rates in the community mean a higher chance of it getting out of control and infecting vulnerable groups. Leading US infectious disease expert Anthony Fauci has said the next two weeks will be critical.

What is the overall situation in the US?
On Sunday, Johns Hopkins University said the total number of cases in the country had risen to 2,548,991. While some of the rise was down to more extensive testing, the rate of positive tests in some areas is also increasing.
Health officials estimate the true number of cases is likely to be 10 times higher than the confirmed total. The US Centers for Disease Control (CDC) has said that up to 20 million Americans may have been infected.
The surge in cases was being driven by young people – those aged between 18 and 34 – testing positive, especially in the south and west of the US, said the head of the CDC, Dr Robert Redfield.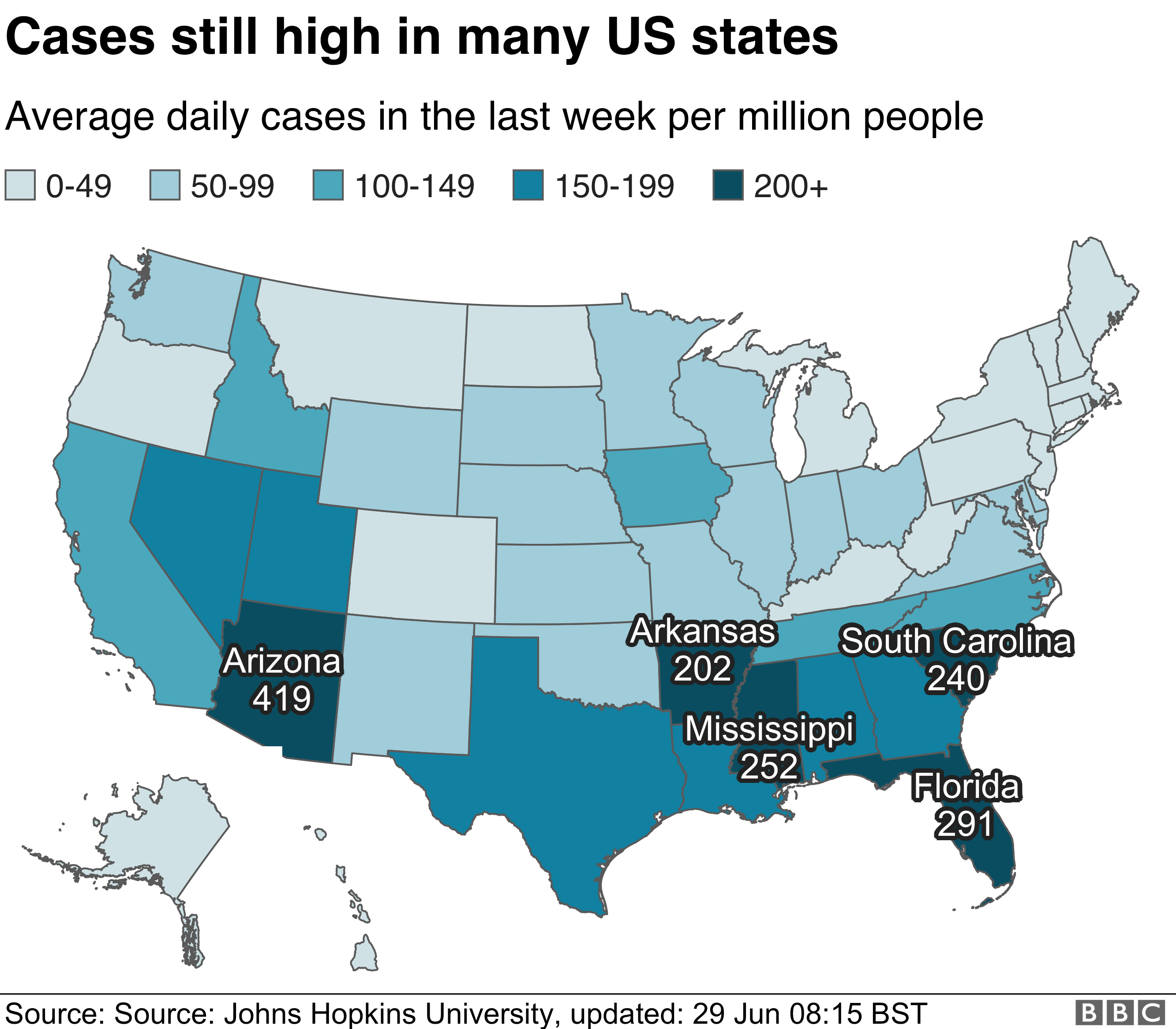 Source: BBC