The first trailer for the new Black Widow movie has dropped, ahead of the film's release in 2020.
The character first appeared in 2010's Iron Man 2, and has since then been a significant figure in the Marvel cinematic universe.
The new film, starring Scarlett Johansson, isn't an origin story, but it does come before the events of the last two Avengers movies, Infinity War and Endgame.
It may not be out until May, but while we wait here are seven talking points from Tuesday's new trailer.
1) Just like Budapest!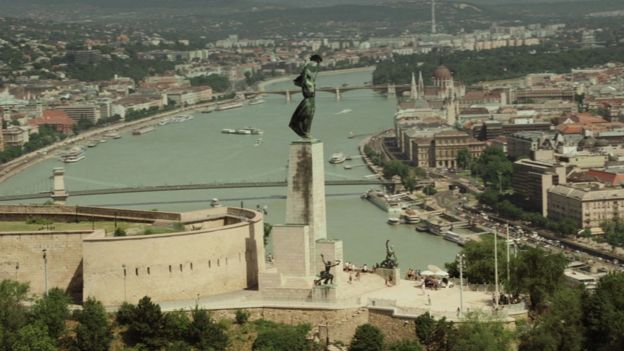 The opening shot of the Hungarian capital Budapest teases that we'll finally uncover more about an event briefly mentioned in the first Avengers movie back in 2012.
In that film, during the intensity of the battle of New York, Natasha Romanoff aka Black Widow – firing off gun shots – casually says to Hawkeye: "Just like Budapest, all over again."
Hawkeye responds: "You and I remember Budapest very differently!"
It's a reference that has intrigued and excited fans ever since. But there is a complicating factor. This movie is set after, not before The Avengers. It actually follows the events of Captain America: Civil War. So is Budapest here a flashback, or is Black Widow revisiting it after traumatic events in the past?